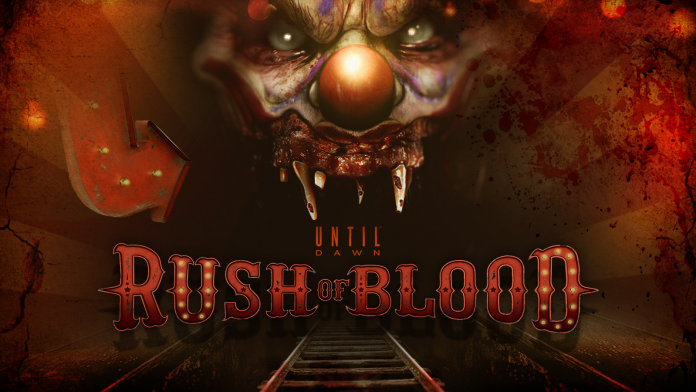 With its recent release Playstation VR has begun to dominate the market as possibly the most affordable and effective Virtual Reality headset available. Playstation Vr offers Console gamers an incredible entry into the World of Virtual Reality (VR) Gaming. Games such as Until Dawn: Rush of Blood continue to push the excitement and provide hours of enjoyment for gamers and we're her to fix or help if you're having any issues with Until Dawn: Rush of Blood not connecting, loading or simply not working.
There are a few parts which are required to begin playing Until Dawn: Rush of Blood however the majority of them are provided within the Playstation VR Box. Firstly, a Playstation 4 is required with ample Disk Space Required for Until Dawn: Rush of Blood. This will connect into the Playstation VR Processor Unit which is powered by its own unique power cable, this Processor Unit also provides the your Playstation VR Headset with key 3D Audio Processing and Visual Aids. The Playstation VR Headset comes with the initial starter pack. Additional to this you will require a Playstation Camera however this item is not included in the original Playstation VR Pack and depending on what Until Dawn: Rush of Blood requires you will need a number of Playstation Move Controllers.
Some Issues Which May Present Themselves with Until Dawn: Rush of Blood & How to Fix
1: UNTIL DAWN: RUSH OF BLOOD SHOWING BLACK SCREEN WITH PLAYSTATION VR HEADSET
If you're experiencing Freezing or Screen locks which only show a black screen via your headset with Until Dawn: Rush of Blood then you may have a few issues with both hardware and software. The best way to fix black screens is to simply narrow down the possibilities of the error.
Solution: First off ensure that all relevant HDMI cables connecting your Processor Unit and Playstation VR Headset are not faulty and are carrying a signal. You can test this by directly linking it from your Playstation 4 into your TV.
If your HDMI Cables are not causing a fault be sure to power down and power up the Processor unit by simply un-plugging it to reset the connection, once Reset be sure to reload Until Dawn: Rush of Blood on your Playstation 4 Hub. Another thing that may fix the problem is to check that you're running the latest Until Dawn: Rush of Blood software update which can be found through your Playstation 4 Menu's – An active internet connection will be required for you to check for updates.
If you're still getting a Black screen or Until Dawn: Rush of Blood is simply not connecting to your Playstation VR Headset, then you have two options. Possibly contact the place of sale to enquire about having a replacement or refund of the Playstation VR Headset. You can check out our guide on obtaining a Refund or Replacement from the retailer for Until Dawn: Rush of Blood. You could also reach out the SONY's Playstation VR support department as they have a team of highly skilled individuals which may be able to help with any questions that you may have. You may also be able to find some help from the Playstation VR Forum.
RELATED : Why Are Games Released With So Many Bugs?
2: PLAYSTATION VR NOT CONNECTING ERROR WITH UNTIL DAWN: RUSH OF BLOOD FIX
With the Playstation VR having such an array of important cables running everywhere it can sometimes get a bit overwhelming. All the more present if you're having issues with Until Dawn: Rush of Blood not connecting with your Playstation VR devices. If your Move Controllers or Playstation Camera or even Processor Unit is not connecting properly then you will suffer a multitude of errors, crashing and issues while you play Until Dawn: Rush of Blood.
Solution: Playstation Camera Not Working with Until Dawn: Rush of Blood Fix
The only reliable Playstation Camera useable with the Playstation VR on Until Dawn: Rush of Blood is the official Playstation 4 Camera. You can easily pick one of these devices off most reputable online retailers or even quite possibly your nearby game store. The Camera Connects to your Playstation 4 Via a USB Cable and very rarely presents any problems. However, if you're having issues or errors connecting the Playstation 4 Camera then Here's what to do!
Ensure that your Playstation 4 Camera is Legitimate and not of a third party creation. Until Dawn: Rush of Blood will only accept the official Playstation 4 Camera in an ideal situation. Ensure that the USB socket on your Playstation 4 is currently working and is not failing on you. Ensure there is no dust trapped within the socket or within your Playstation 4 Connector. Finally ensure that you have the latest Playstation 4 Camera Update which can be updated via your Playstation 4 'Check for Updates'. If Until Dawn: Rush of Blood is still not connecting, then it is maybe possible that your Playstation 4 Camera is faulty – If so seek a repair/replacement from the retailer that you purchased it from.
Solution: Move Controllers Not Connecting with Until Dawn: Rush of Blood Fix
When playing Until Dawn: Rush of Blood you may be required to have one or two Move Playstation Controllers. If you're having issues connecting the controllers to the Playstation VR during Until Dawn: Rush of Blood then you can try the following. Ensure your Move Controllers are synched to your Playstation 4 Via the USB cable. Ensure that they are identified by the Playstation 4 Accessory Settings before starting.
Be sure to check if Until Dawn: Rush of Blood even requires Move Controllers as not all games may support them. You can easily find this out by more often than not reading the Manual or checking the back of the game BOX for the information. One final thing that may Fix the Move Controllers Connectivity is ensuring that you're running the latest Software Update on both or Playstation 4 and Until Dawn: Rush of Blood interface – This can easily be done inside your Playstation 4 Settings and Game Menus.
3: UNTIL DAWN: RUSH OF BLOOD BAD PICTURE QUALITY USING PLAYSTATION VR
Although Rare the Playstation VR headset may give poor tracking issues or bad picture quality. There are plenty of easy fixes when it comes to bad quality using the headset. So if you're playing Until Dawn: Rush of Blood and you notice that the screen is distorted or the quality is lacklustre then please be sure to try the following.
Solution: Disconnect the Processing unit and ensure all cables are re-connected to the Playstation VR unit. If you need help with the connections, then be sure to double check the Playstation Manual or quick start guide. It may be possible that the Playstation VR has lost configuration in which you will have to re-configure it. To do this simply access the Playstation Quick Menu while within Until Dawn: Rush of Blood and select 'Adjust Playstation VR' then tinker with the position settings. Once you have stabilized the image and it is crystal clear ensure that you apply the settings and save.
The Playstation Camera maybe the cause of the poor image quality and to fix this be sure to re-configure the Camera via the same settings, this time you're looking for 'Adjust Playstation Camera'. Sometimes dust or dirt can cause issues on the Playstation VR screen while playing Until Dawn: Rush of Blood. Be sure to use a clean cloth and cleaning solution to clean the glass.
Other Playstation Issues or Errors that you may Encounter With Until Dawn: Rush of Blood
Sometimes Trophies may not unlock while completing that epic boss battle or racing for the fastest time. If you ever encounter this fault with 'Until Dawn: Rush of Blood' we recommend you restart the console and check for any updates which may be available via online. Double check that your connection with Playstation Network is fluid and without fault. Some games require you to be online for certain trophies to unlock.
Solution: Sometimes trophies can be effected by a multitude of issues such as running the latest update of the game, connection issues with the internet or simply a sly bug still running within the game in which the developer has yet to fix.
GUIDE: How To Fix Playstation 4 Trophies Not Unlocking
Sometimes when a console crash or simply turns off it can be various issues. However the major culprit is overheating. Consoles run hot for lengths of time and without the correct treatment can cause crashes and sometimes permanant damage. If you experience this while playing 'Until Dawn: Rush of Blood' on Playstation 4. We have a few tricks that might save the day.
Solution: Before anything be sure to connect to Playstation Network and download any current or new updates for both the PS4 and 'Until Dawn: Rush of Blood'. Follow our overheating guide which will allow you to clean your console and remove any debris which may be causing the fault. If this fails to work it may be a damaged save file or hard drive information. Begin a brand new game on 'Until Dawn: Rush of Blood' or alternatively you can do a complete system restart in order to fix any hard-drive issues.
GUIDE: Overheating Playstation 4 Cleaning Guide / How To Factory Reset A Playstation 4
It is important to run the latest update of the games available today. Developers will release updates over time which will help with bugs and fixes, crashing errors, balance issues and also add additional content. Sometimes due to client in-compatibility you will not be able to play online and use some specific features.
Solution: Ensure that your Playstation 4 is connected to the internet. This will allow for it to automatically download the latest update for 'Until Dawn: Rush of Blood'. If the game has no automatic update feature available then more than likely you will find it in the game settings. If your Playstation 4 will not update then please be sure to check your internet connection.
GUIDE : How To Get The Latest Updates and Patches