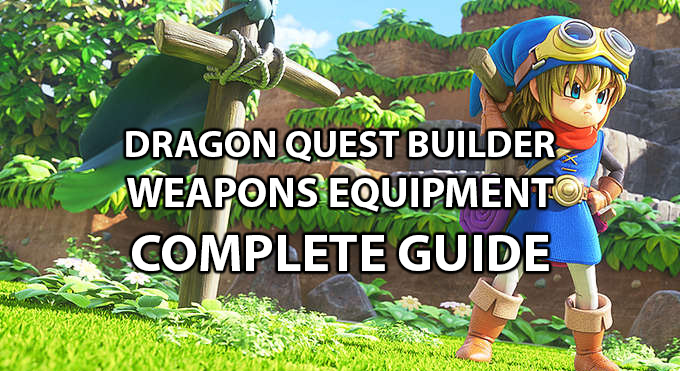 Dragon Quest Builders is not always Sunshine and Happyness. As you build your fantasy Village you will have to defend yourself and your citizens from the enemies that lurk the lands. You can do this by outfitting yourself with great armour and powerful weapons. However firstly you will need to get the required materials and items in order to craft your weapons and gear.
Weapons and Armor are not the only things you may need. Weapons will be essential to ensure that you're hitting your enemies harder and harder. Armor will allow you to survive those longer boss Battles. Whilst having to defend your villages you can build defences with the materials. You also can gain access to Shields which grant additional bonuses as well as ranged weapons which will allow you to deal the pain from range.
Below is an extensive guide on all the Weapons, Armor, Shields, Defences, Ranged weapons and more available within Dragon Quest Builders. Be sure to check out our other guides if you are looking for more information on where you can find the crafting materials and what elements are required. Happy Hunting!
RANGED WEAPONS
DRAGON QUEST BUILDERS RANGED WEAPONS CRAFTING GUIDE
| | | | |
| --- | --- | --- | --- |
| Crack shot (x20) | Ice (x2), iron ingot | A blistering bullet imbued with polar power. | Inflicts damage on enemies. |
| Divine dagger (x10) (Chapter 2, Free Play) | Liquid silver (x3), rusty nuggets | A silver throwing knife suffused with saintly sorcery. | Inflicts damage. Inflicts paralysis on undead monsters. |
| Divine dagger (x10) (Final Chapter) | Silver (x2), holy water | A silver throwing knife suffused with saintly sorcery. | Inflicts damage. Inflicts paralysis on undead monsters. |
| Kaboom shot (x20) | Sizz shot (x20), Crack shot (x20) | A bombastic bullet imbued with explosive energy. | Inflicts damage on enemies. |
| Sizz shot (x20) | Lava (x2), iron ingot | A burning bullet imbued with magmatic might. | Inflicts damage on enemies. |
| Throwing stone (x10) | Pumice pieces | A smooth stone suitable for slinging at faraway foes. | Inflicts damage. |
DEFENCES
DRAGON QUEST BUILDERS DEFENCES CRAFTABLE GUIDE
| | | | |
| --- | --- | --- | --- |
| Ballista | Wood (x5), cord (x3), rusty nuggets | A colossal crossbow that fires with such force that it needs to be fixed to the floor. | Can be fired after pressing X. |
| Button (x3) | Iron ingot (x2), spring (x3), orange oil | A big red button that activates any appliances in the local area. | Activates nearby traps and armaments when pushed. |
| Cannon | Iron ingot (x5), wood (x3), thermobattery (x3) | Artillery for hurling huge metal missiles massive distances. | Can be fired by pressing X. |
| Cantlinshield | Orichalcum (x5), golemite (x3) | A durable defensive wall that can block any enemy's attack. | Can be retrieved by pressing X. |
| Magic cannon | Cannon, magic ingot (x3), thermobattery (x3) | A magical mortar that blasts foes with a concussive Kaboom. | Can be fired by pressing X. |
| Piston (x5) | Iron ingot (x3), spring (x5), thermobattery | A booby-trapped box fitted with a powerful propulsive paddle. | Forcefully pushes away any monster or person it hits. |
| Pressure plate (x3) | Iron ingot (x2), spring (x3), orange oil | A simple switch that sets off any appliances in the local area. | Activates nearby traps and armaments when stepped on. |
| Spike trap (x10) | Copper ingot (x3) | A handful of horribly sharp spikes that can be set on the ground. | Deals damage to enemies who walk over it. |
| Wrecking ball (x5) | Rockbomb shard (x3), iron ingot, cord | An explosive steel sphere filled with fulminatory fragments. | Explodes a short time after being placed. |
WEAPONS
DRAGON QUEST BUILDERS WEAPONS CRAFTING GUIDE
| | | | | |
| --- | --- | --- | --- | --- |
| Cypress stick | Tree stump, mason's workstation, carpenter's workstation | Broken branch | A broken branch whittled to work as a weapon. | Attack +1. |
| Shovel (Chapter 1, 3, Final, Free Play) | Mason's workstation, miner's refiner | Iron ingot, broken branch | A simple spade with a pointed blade. | Attack +1. Allows you to dig up plants without destroying them. |
| Shovel (Chapter 2) | Sewing station | Rusty nuggets, broken branch | A simple spade with a pointed blade. | Attack +1. Allows you to dig up plants without destroying them. |
| Oaken club | Mason's workstation, carpenter's workstation | Broken branch (x2) | A stout and sturdy wooden cudgel. | Attack +5. |
| Giant mallet | Tree stump, mason's workstation, carpenter's workstation, sewing station | Broken branch (x3) | A heavy hammer hewn from a large log. | Attack +8. Can break hard blocks. |
| Stone sword | Mason's workstation | Stone | A sword of honed stone with a wooden pommel. | Attack +11. |
| Stone axe | Sewing station | Stone, wood | A crude cleaver with a stone-hewn head. | Attack +14. Can break hard blocks. |
| Copper sword | Forge, furnace | Copper ingot | A simple sword with a blade of beaten copper. | Attack +16. |
| Falcon blade | Sewing station | Liquid silver, rusty nuggets, gold | A feather-light falchion that strikes like a swooping hawk. | Attack +25. Strikes twice with each attack. |
| Iron broadsword (Chapter 1, 3, Final, Free Play) | Forge, furnace | Iron ingot | A strong sword forged from iron. | Attack +26. |
| Iron broadsword (Chapter 2) | Sewing station | Rusty nuggets | A strong sword forged from iron. | Attack +26. |
| Sledgehammer | Forge, furnace | Iron ingot (x2) | A massive mallet made from solid iron. | Attack +29. Can break very hard blocks. |
| Iron axe | Sewing station | Rusty nuggets, wood | A heavy metal hatchet with a wooden handle. | Attack +30. Can break very hard blocks. |
| Steel broadsword | Furnace | Steel ingot | A weighty weapon with a sharp steel blade. | Attack +35. |
| War hammer | Furnace | Steel ingot (x2), scorpion horn (x3) | A steel sledgehammer so heavy that only the strongest soldiers can hold it. | Attack +37. Can break very hard blocks. |
| Battleaxe | Sewing station | Rusty nuggets (x2), steel ingot | A stout and steely weapon of war. | Attack +38. Can break very hard blocks. |
| Fire blade | Furnace | Orichalcum (x2), rockbomb shard (x5), coal (x5) | A sword forged in the shape of a raging inferno. | Attack +39. Enchanted with fire magic. |
| Aurora blade | Welder's workbench | Magic ingot | Made from a mysterious metal that shines like the sun. | Attack +40. Enchanted with magic. |
| Hela's hammer | Welder's workbench, machinist's workbench | Magic ingot (x2), thermobattery | A hammer that's as hefty as it is holy. | Attack +43. Can break very hard blocks. Enchanted with magic. |
| Sword of Kings | Furnace | Orichalcum (x3), steel ingot (x2), gold, silver, magic dye | A sacred sword forged from a mystical metal. | Attack +50. Does not degrade with use. |
| Sword of ruin | Forbidden altar | Orichalcum (x2), silvery sludge, septic shrub, dragon bones | An unwieldy weapon with a strange and sinister shape. | Attack +50. It emits an ominous aura… |
| Hammer of the Builder | Furnace | Orichalcum (x3), iron ingot, steel ingot, gold | The ultimate hammer, forged from the finest materials. | Attack +53. Can break very hard blocks. Does not degrade with use. |
| Erdrick's sword | Diviner's altar | Orichalcum (x3), steel ingot (x2), gold, silvery sludge, holy water | The fabled blade of a legendary hero. | Attack +55. Does not degrade with use. |
ARMOR
DRAGON QUEST BUILDERS ARMOR CRAFTING GUIDE
| | | | | |
| --- | --- | --- | --- | --- |
| Ragged rags (Chapter 1, 3, Final, Free Play) | Tree stump, mason's workstation | Coarse cloth | A torn and tattered tunic that provides paltry protection. | Defense +1. |
| Ragged rags (Chapter 2) | Carpenter's workstation, sewing station | Cotton | A torn and tattered tunic that provides paltry protection. | Defense +1. |
| Scandalous swimsuit | Mason's workstation, sewing station | Finest fur, magic dye, cord | Racy red swimwear for those who like to show some skin. | Defense +1. |
| Plain clothes | Tree stump, sewing station | Cotton (x2), cord (x2) | An ordinary outfit for everyday wear. | Defense +3. |
| Wayfarer's clothes (Chapter 1, 3, Final, Free Play) | Mason's workstation, sewing station | Coarse cloth (x2), blue goo, orange oil, cord | A light and long-lasting tunic for the trendy traveler. | Defense +5. Slightly increases movement speed. |
| Wayfarer's clothes (Chapter 2) | Carpenter's workstation, sewing station | Cotton (x2), blue goo, orange oil, cord | A light and long-lasting tunic for the trendy traveler. | Defense +5. Slightly increases movement speed. |
| Guard's garb | Mason's workstation, sewing station | Coarse cloth (x3), magic dye, cord | The unmistakable uniform of an Alefgardian guardsman. | Defense +5. Slightly increases movement speed. |
| Trader's tunic | Mason's workstation, sewing station | Coarse cloth (x3), magic dye, cord | Lightweight leisure wear that won't weigh a travelling trader down. | Defense +5. Slightly increases movement speed. |
| Villager's vesture | Mason's workstation, sewing station | Coarse cloth (x3), magic dye, cord | Classy clobber preferred by trendy townspeople. | Defense +5. Slightly increases movement speed. |
| Leather armour | Mason's workstation, sewing station | Fur (x3), copper ingot, cord | A sturdy, studded suit of hardened hide. | Defense +9. |
| Training togs | Sewing station | Fibrous fabric, orange oil, cord | A uniform of flexible fabric that makes movement a breeze. | Defense +12. Slightly increases movement speed. |
| Chain mail | Sewing station | Liquid silver (x3), bewarewolf pelt (x2), cord | A cushioned coat made from interlocking loops of silver. | Defense +16. |
| Iron armour | Forge, furnace | Iron ingot (x2), fur, cord | A suit of protective plate fashioned from iron ingots. | Defense +17. |
| Cloak of evasion | Sewing station | Fibrous fabric, cotton (x2), sapphire, cord | Artful attire that lends its wearer a certain speediness. | Defense +20. Slightly increases movement speed. |
| Spiked armour | Forge, furnace | Iron ingot (x2), face guard fragment (x2), scorpion horn (x2), fur, cord | Barbarous barbed armour adorned with thorns. | Defense +21. Reflects 50% of damage taken back toward enemies. |
| Magic armour | Welder's workbench | Magic ingot (x2), powie yowie fur, cord | Gaudy green armour made from a magical metal. | Defense +25. Reduces damage taken from indirect attacks. |
| Full plate armour | Furnace | Steel ingot (x2), finest fur, cord | A sturdy suit of impenetrable steel plate. | Defense +26. |
| Flowing dress | Sewing station | Celestial skein (x3), powie yowie fur (x5), cord | A beautiful blue robe that flows like water. | Defense +26. Reduces damage taken from lava. |
| Auroral armour | Furnace | Zenithium (x3), ruby, gold, orichalcum (x2), finest fur (x2), cord | Illustrious armour blessed by benevolent Rubiss herself. | Defense +30. Take no damage from poison or lava. |
| Wailer's mail | Forbidden altar | Orichalcum (x2), silvery sludge, septic shrub, bones (x3), finest fur | Abominable armour built from the bones of the damned. | Defense +30. It emits an ominous aura… |
SHIELDS
DRAGON QUEST BUILDERS SHIELD CRAFTING GUIDE
| | | | | |
| --- | --- | --- | --- | --- |
| Leather shield | Mason's workstation, sewing station | Fur (x2), wood | A basic buckler hardened with hide. | Defense +2. |
| Iron shield | Forge, furnace | Iron ingot, wood | A sturdy iron shield with a wooden handle. | Defense +5. |
| Steel shield | Furnace | Steel ingot, wood | A strong shield shaped from a single sheet of steel. | Defense +10. |
| Magic shield | Welder's workbench | Magic ingot, wood | A light and luminous shield made from a magical metal. | Defense +10. Reduces damage taken from indirect attacks. |
| Silver shield | Sewing station | Liquid silver (x10), sapphire, wood | A bejeweled buckler buffed to a silvery sheen. | Defense +13. |
| Hero's shield | Furnace | Zenithium (x2), ruby, gold, steel ingot (x2), wood (x2) | The sacred shield of a hero of legend. | Defense +16. |
| Thanatos' shield | Forbidden altar | Orichalcum, silvery sludge, septic shrub, huge horn (x2) | An abominable aegis adorned with a horned skull. | Defense +16. It emits an ominous aura… |
ACCESSORIES
DRAGON QUEST BUILDERS ACESSORIES CRAFTING GUIDE
| | | | | |
| --- | --- | --- | --- | --- |
| Catholicon ring | Transmutation table | Silver (x10), gold (x3), Defuddle drops, tingle tablet, antidotal herb | An almighty accessory that guards against all ills. | Protects against all status ailments. |
| Featherfall footwear | Furnace | Orichalcum (x10), finest fur (x5) | Superbly sturdy shoes constructed from orichalcum. | Protects against falling damage. |
| Full moon ring | Herbalist's cauldron, transmutation table | Liquid silver (x3), Tingle tablet (x3), pure water | A celestial sphere embedded in a bright band. | Protects against paralysis. |
| Gourmand's girdle | Herbalist's cauldron, transmutation table | Rusty nuggets (x5), fibrous fabric (x2), ruby (x2), zenithium (x2), fresh fish feast | A big, buckled belt that keeps you feeling full. | Prevents the hunger meter from decreasing. |
| Meteorite bracer | Furnace | Gold (x10), silver (x5) | An armlet imbued with all the energy of a shooting star. | Increases movement speed. |
| Ring of clarity | Herbalist's cauldron, transmutation table | Liquid silver (x3), Defuddle drops (x3), pure water | A ring with a calming blue hue that keeps its bearer composed. | Protects against confusion. |
| Ring of criticality | Furnace | Silver (x10), ruby | A ring that brings out the best in its bearer. | Increases critical hit rate. |
| Ring of immunity | Herbalist's cauldron, transmutation table | Gold (x2), antidotal herb (x3), pure water | A ring imbued with a bane-busting blessing. | Protects against poison. |
| Strength ring | Herbalist's cauldron, transmutation table | Ruby, gold | A big, bold ring that boosts its wearer's brawn. | Attack +5. |
| Talaria | Sewing station | Chimaera feather (x20), powie yowie fur (x5), finest fur (x5) | Strange sandals that make you feel as light as a feather. | Allows you to double jump. |
| | | |
| --- | --- | --- |
| Dragon scale | A protective pendant shaped from a serpent's scale. | Defense +5. |
| Gold ring | A finely filigreed ring that fills its wearer with vim and vigor. | Increases max HP by 10. |
| Ring of awakening | A rousing ring that keeps its wearer alert. | Protects against sleep. |
| Ruby of protection | A brightly bejeweled bauble that blocks enemy attacks. | Decreases damage taken from direct attacks by 50%. |
| Steel sabatons | Heavy-duty boots that brace against sudden shocks. | Reduces falling damage by 50%. |
COMPLETE DRAGON QUEST BUILDERS GUIDE

DRAGON QUEST BUILDERS ENEMIES GUIDE AND DROPPABLE LOOT