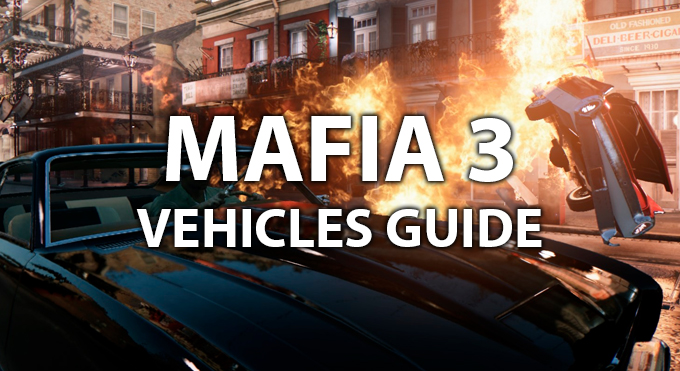 If Vehicles is your thing then Mafia 3 is Jammed pack full of them! Ranging from Emergency vehicles, Muscle Cars, Speed boats and special unique vehicles you will be able to drive mostly anything! We've garnered a guide which lists all of the available vehicles within the game with some basic stats about each one.
Vehicles can be found in variety around the city and may not be restricted to one particular map or area. For those collectors out there interested in getting an achievment for collecting all vehicles then the below list may help you out!
Overtime we will update this guide if any way of scouting down each Vehicle becomes available.
MAFIA 3 VEHICLES LIST – HOW TO UNLOCK & STATISTICS
BOATS – MAFIA 3
Vehicle Name : SALAMANDAR
Vehicle Class : SWAMP BOAT
Vehicle Weight : N/A FLOATS
Vehicle Speed : POOR
Vehicle Name : NJORD KINGFISHER
Vehicle Class : SWAMP BOAT
Vehicle Weight : N/A FLOATS
Vehicle Speed : POOR
Vehicle Name : NJORD SEAFARER
Vehicle Class : FISHING BOAT
Vehicle Weight : N/A FLOATS
Vehicle Speed : POOR
Vehicle Name : ECKHART COLUMBUS
Vehicle Class : SMALL BOAT
Vehicle Weight : N/A FLOATS
Vehicle Speed : BELOW AVERAGE
Vehicle Name : SAMSON RAIDER
Vehicle Class : SPEED BOAT
Vehicle Weight : N/A FLOATS
Vehicle Speed : BELOW AVERAGE
Vehicle Name : SAMSON RAIDER – SMUGGLER
Vehicle Class : SPEED BOAT
Vehicle Weight : N/A FLOATS
Vehicle Speed : BELOW AVERAGE
Vehicle Name : CUTLER 50
Vehicle Class : LARGE BOAT
Vehicle Weight : N/A FLOATS
Vehicle Speed : POOR
SPORTS CARS – MAFIA 3
Vehicle Name : DE'LEO CAPULET
Vehicle Class : SPORTS
Vehicle Weight : LOW
Vehicle Speed : EXTREME
Vehicle Name : DELIZIA 58
Vehicle Class : SPORTS
Vehicle Weight : LOW
Vehicle Speed : EXTREME
Vehicle Name : DE'LEO KASHMIR 
Vehicle Class : SPORTS
Vehicle Weight : LOW
Vehicle Speed : ABOVE AVERAGE
Vehicle Name : SAMSON DUKE
Vehicle Class : SPORTS
Vehicle Weight : MEDIUM
Vehicle Speed : ABOVE AVERAGE
Vehicle Name : SAMSON OPUS
Vehicle Class : SPORTS
Vehicle Weight : LOW
Vehicle Speed : EXTREME
Vehicle Name : SMITH MORAY
Vehicle Class : SPORTS
Vehicle Weight : MEDIUM
Vehicle Speed : EXTREME
Vehicle Name : DE'LEO STILETTO
Vehicle Class : SPORTS
Vehicle Weight : LOW
Vehicle Speed : EXTREME
Vehicle Name : DE'LEO TRAVIATA
Vehicle Class : SPORTS
Vehicle Weight : LOW
Vehicle Speed : EXTREME
Vehicle Name : SMITH MORAY MX100
Vehicle Class : SPORTS
Vehicle Weight : MEDIUM
Vehicle Speed : EXTREME
2-DOOR CARS – MAFIA 3
Vehicle Name : BERKLEY GYPSY
Vehicle Class : COMPACT
Vehicle Weight : MINIMAL
Vehicle Speed : BELOW AVERAGE
Vehicle Name : BERKLEY ALTAMONT
Vehicle Class : 2 DOOR
Vehicle Weight : MEDIUM
Vehicle Speed : MEDIUM
Vehicle Name : BERKLEY PIXA
Vehicle Class : COMPACT
Vehicle Weight : MINIMAL
Vehicle Speed : BELOW AVERAGE
Muscle Cars – Mafia 3
Vehicle Name : SAMSON DRIFTER
Vehicle Class : MUSCLE
Vehicle Weight : MEDIUM
Vehicle Speed : FAST
Vehicle Name : LASSITER LEOPARD
Vehicle Class : MUSCLE
Vehicle Weight : MEDIUM
Vehicle Speed : FAST
Vehicle Name : BERKLEY STALLION
Vehicle Class : MUSCLE
Vehicle Weight : MEDIUM
Vehicle Speed : EXTREME
Vehicle Name : POTOMAC ASCENT
Vehicle Class : MUSCLE
Vehicle Weight : MEDIUM
Vehicle Speed : FAST
Vehicle Name : POTOMAC GT
Vehicle Class : MUSCLE
Vehicle Weight : MEDIUM
Vehicle Speed : EXTREME
Vehicle Name : DE'LEO APOLLO
Vehicle Class : MUSCLE
Vehicle Weight : MEDIUM
Vehicle Speed : EXTREME
Vehicle Name : LASSITER MAMBA
Vehicle Class : MUSCLE
Vehicle Weight : MEDIUM
Vehicle Speed : EXTREME
4-DOOR CARS – MAFIA 3
Vehicle Name : POTOMAC HERITAGE
Vehicle Class : STATION WAGON
Vehicle Weight : HIGH
Vehicle Speed : MEDIUM
Vehicle Name : POTOMAC CROCKET
Vehicle Class : STATION WAGON
Vehicle Weight : HIGH
Vehicle Speed : LOW
Vehicle Name : POTOMAC GALLANT
Vehicle Class : CONVERTIBLE
Vehicle Weight : MEDIUM
Vehicle Speed : FAST
Vehicle Name : DE'LEO ANGELENO
Vehicle Class : 4-DOOR
Vehicle Weight : HIGH
Vehicle Speed : EXTREME
Vehicle Name : POTOMAC INDIANA
Vehicle Class : 4-DOOR
Vehicle Weight : MEDIUM
Vehicle Speed : MEDIUM
Vehicle Name : POTOMAC UPTOWN
Vehicle Class : COMPACT CONVERTIBLE
Vehicle Weight : LOW
Vehicle Speed : MEDIUM
Vehicle Name : SAMSON RICHMOND-LUX
Vehicle Class : 4-DOOR
Vehicle Weight : MEDIUM
Vehicle Speed : MEDIUM
Vehicle Name : LASSITER BISHOP
Vehicle Class : 4-DOOR
Vehicle Weight : HEAVY
Vehicle Speed : MEDIUM
Vehicle Name : BERKLEY EXECUTIVE
Vehicle Class : 4-DOOR
Vehicle Weight : MEDIUM
Vehicle Speed : FAST
Vehicle Name : BERKLEY COUNTRY SEDAN
Vehicle Class : STATION WAGON
Vehicle Weight : HEAVY
Vehicle Speed : FAST
LUXURY CARS – MAFIA 3
Vehicle Name : POTOMAC INDEPENDENT
Vehicle Class : LUXURY
Vehicle Weight : HEAVY
Vehicle Speed : FAST
Vehicle Name : SAMSON STORM
Vehicle Class : LUXURY
Vehicle Weight : HEAVY
Vehicle Speed : HEAVY
Vehicle Name : LASSITER PALATINE
Vehicle Class : LUXURY
Vehicle Weight : EXTREME
Vehicle Speed : EXTREME
Vehicle Name : POTOMAC VISCOUNT
Vehicle Class : LUXURY
Vehicle Weight : HEAVY
Vehicle Speed : FAST
Vehicle Name : LASSITER MAJESTY
Vehicle Class : LUXURY
Vehicle Weight : EXTREME
Vehicle Speed : EXTREME
Vehicle Name : LASSITER STERLING
Vehicle Class : LUXURY
Vehicle Weight : EXTREME
Vehicle Speed : FAST
Vehicle Name : LASSITER COURANT
Vehicle Class : LUXURY
Vehicle Weight : EXTREME
Vehicle Speed : EXTREME
OFFROAD CARS – MAFIA 3
Vehicle Name : BULWORTH ASPEN
Vehicle Class : OFFROAD
Vehicle Weight : MEDIUM
Vehicle Speed : LOW
Vehicle Name : BULWORTH MOHICAN
Vehicle Class : OFFROAD
Vehicle Weight : MEDIUM
Vehicle Speed : MEDIUM
Vehicle Name : ECKHART PIONEER
Vehicle Class : OFFROAD
Vehicle Weight : HEAVY
Vehicle Speed : MEDIUM
Vehicle Name : SAMSON LOKATA
Vehicle Class : OFFROAD
Vehicle Weight : LOW
Vehicle Speed : LOW
TRUCKS CARS – MAFIA 3
Vehicle Name : SAMSON ST 45 TANK TRUCK
Vehicle Class : FUEL TRUCK
Vehicle Weight : EXTREME
Vehicle Speed : LOW
Vehicle Name : SAMSON GARBAGE TRUCK
Vehicle Class : GARBAGE TRUCK
Vehicle Weight : EXTREME
Vehicle Speed : POOR
Vehicle Name : BULWORTH BUCKLINER 500
Vehicle Class : LARGE TRUCK
Vehicle Weight : EXTREME
Vehicle Speed : LOW
Vehicle Name : POTOMAC 550
Vehicle Class : COMPACT TRUCK
Vehicle Weight : EXTREME
Vehicle Speed : LOW
Vehicle Name : SAMSON KINGFISHER
Vehicle Class : TRUCK
Vehicle Weight : EXTREME
Vehicle Speed : LOW
Vehicle Name : BULWORTH BUCKLINER 150
Vehicle Class : PICKUP TRUCK
Vehicle Weight : LOW
Vehicle Speed : LOW
Vehicle Name : GRIFFIN RANCHO GT
Vehicle Class : PICKUP TRUCK
Vehicle Weight : MEDIUM
Vehicle Speed : MEDIUM
Vehicle Name : BULWORTH BUCKLINER 75
Vehicle Class : PICKUP TRUCK
Vehicle Weight : LOW
Vehicle Speed : LOW
Vehicle Name : BULWORTH BANYAN
Vehicle Class : DELIVERY TRUCK
Vehicle Weight : EXTREME
Vehicle Speed : LOW
EMERGENCY CARS – MAFIA 3
Vehicle Name : SAMSON PROTECTOR
Vehicle Class : POLICE CAR
Vehicle Weight : MEDIUM
Vehicle Speed : FAST
Vehicle Name : ECKHART CHAMPION
Vehicle Class : POLICE CAR
Vehicle Weight : MEDIUM
Vehicle Speed : FAST
Vehicle Name : WRINKLER 353 MILITARY
Vehicle Class : MILITARY TRUCK
Vehicle Weight : EXTREME
Vehicle Speed : LOW
Vehicle Name : SAMSON RHINO
Vehicle Class : S.W.A.T VAN
Vehicle Weight : EXTREME
Vehicle Speed : MEDIUM
SPECIAL CARS – MAFIA 3
Vehicle Name : BULWORTH MOBILE STORE
Vehicle Class : DELIVERY TRUCK
Vehicle Weight : LOW
Vehicle Speed : MEDIUM
Vehicle Name : PINKERTON TITAN
Vehicle Class : ARMORED
Vehicle Weight : EXTREME
Vehicle Speed : MEDIUM
Vehicle Name : BULWORTH FREIGHT
Vehicle Class : STATION WAGON
Vehicle Weight : MEDIUM
Vehicle Speed : LOW
Vehicle Name : WRINKLER
Vehicle Class : UTILITY TRUCK
Vehicle Weight : EXTREME
Vehicle Speed : POOR
Vehicle Name : ECKHART TAXI
Vehicle Class : TAXI
Vehicle Weight : MEDIUM
Vehicle Speed : MEDIUM
Vehicle Name : BULWORTH HEARSE
Vehicle Class : SPECIAL
Vehicle Weight : EXTREME
Vehicle Speed : FAST
MAFIA 3 COMPLETE GUIDE