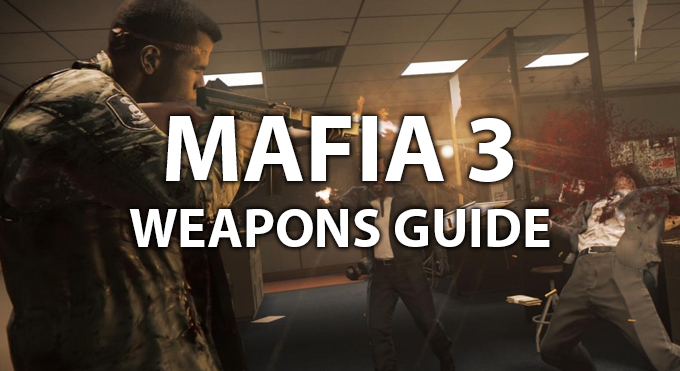 Throughout the Course of Mafia 3 you will be doing your fair share of Gun-Play! This involves a huge arsenal of weapons ranging from Pistols, Shotguns, Sub Machine Guns to Sniper Rifles and other larger weapons. Each Weapon has its unique advantage and may cater for your situation better than others. The best way to know what each weapon does and its effective details is to read below!
Below is a comprehensive list of all the weapons available within the game with some details regarding where you might find the weapons, How To Unlock them, statistics and more! The Weapon types have been broken up into different categories to ensure browsing is made easier.
MAFIA 3 COMPLETE WEAPONS GUIDE & DETAILS!
PISTOLS
Weapon Name : Alfredson M419
Damage Output : Low
Accuracy & Range : Average
Ammo Capacity : Average
Handling :  Great
Weapon Name : Masterson Semi-Auto
Damage Output : Low
Accuracy & Range : Low
Ammo Capacity : Average
Handling : Average
Weapon Name : Clipper .44
Damage Output : Low
Accuracy & Range : Average
Ammo Capacity :  Average
Handling : Good
Weapon Name : Elling 9MM
Damage Output : Low
Accuracy & Range : Average
Ammo Capacity : Average
Handling :  Great
Weapon Name : Silenced Deacon .22
Damage Output : Low
Accuracy & Range : Average
Ammo Capacity : Average
Handling : Great
Weapon Name : Silenced Masterson
Damage Output : Low
Accuracy & Range : Average
Ammo Capacity : Average
Handling : Average
Weapon Name : BlackBurn FAF-33
Damage Output : Average
Accuracy & Range :Average
Ammo Capacity : Average
Handling : Average
Weapon Name : Alfredson M200
Damage Output : Good
Accuracy & Range : Average
Ammo Capacity : Low
Handling : Average
Weapon Name : Masterson Phoenix
Damage Output : Good
Accuracy & Range : Average
Ammo Capacity : Low
Handling : Average
Weapon Name : Scoped Phoenix
Damage Output : Good
Accuracy & Range : Average
Ammo Capacity : Low
Handling : Average
SHOTGUNS
Weapon Name : Barker 390
Damage Output : Insane
Accuracy & Range : Low
Ammo Capacity : Low
Handling : Low
Weapon Name : Lupara
Damage Output : Insane
Accuracy & Range :Low
Ammo Capacity : Low
Handling : Low
Weapon Name : Cornell 40
Damage Output : Insane
Accuracy & Range : Low
Ammo Capacity : Low
Handling : Low
Weapon Name : Barker 1500 Tactical
Damage Output : Insane
Accuracy & Range :Low
Ammo Capacity : Low
Handling : Low
Weapon Name : Riot 550
Damage Output : Insane
Accuracy & Range : Average
Ammo Capacity : Low
Handling : Low
Weapon Name : Elmwood 1925
Damage Output : Insane
Accuracy & Range :Low
Ammo Capacity : Low
Handling : Low
RIFLES
Weapon Name : Hartmann .30
Damage Output : Good
Accuracy & Range : Good
Ammo Capacity : Average
Rate of Fire : Average
Handling : Good
Weapon Name : Manitou Model 67
Damage Output : Good
Accuracy & Range : Great
Ammo Capacity : Low
Rate of Fire : Low
Handling : Great
Weapon Name : Camo Model 67
Damage Output : Great
Accuracy & Range : Great
Ammo Capacity : Low
Rate of Fire : Low
Handling : Average
Weapon Name : Mayweather .30
Damage Output : Good
Accuracy & Range : Good
Ammo Capacity : Low
Rate of Fire : Average
Handling : Average
Weapon Name : Pasadena AR30
Damage Output : Low
Accuracy & Range : Good
Ammo Capacity : Good
Rate of Fire : Good
Handling : Good
Weapon Name : Stromer .223
Damage Output : Good
Accuracy & Range : Good
Ammo Capacity : Good
Rate of Fire : Good
Handling : Good
Weapon Name : Automat SG
Damage Output : Average
Accuracy & Range : Good
Ammo Capacity : Average
Rate of Fire : Great
Handling : Average
Weapon Name : Mayweather M04A3
Damage Output : Good
Accuracy & Range : Low
Ammo Capacity : Low
Rate of Fire : Low
Handling : Average
Weapon Name : Viper 55
Damage Output : Good
Accuracy & Range : Good
Ammo Capacity : Average
Rate of Fire : Low
Handling : Good
Weapon Name : Hawk 4540 Night vision
Damage Output : Good
Accuracy & Range : Great
Ammo Capacity : Good
Rate of Fire : Average
Handling : Good
MACHINE GUNS
Weapon Name : Czech Ver. B-65
Damage Output : Low
Accuracy & Range :  Average
Ammo Capacity : Average
Rate of Fire : Average
Handling : Good
Weapon Name :
Damage Output :
Accuracy & Range :
Ammo Capacity :
Rate of Fire :
Handling :
Weapon Name : Trench 1938
Damage Output : Low
Accuracy & Range : Average
Ammo Capacity : Good
Rate of Fire : Good
Handling : Average
Weapon Name : Trench 1938 Drum
Damage Output : Average
Accuracy & Range : Great
Ammo Capacity : Great
Rate of Fire : Great
Handling : Average
Weapon Name : Alfredson M833
Damage Output : Low
Accuracy & Range : Low
Ammo Capacity : Average
Rate of Fire : Low
Handling : Low
Weapon Name : Deutsche M11B
Damage Output : Low
Accuracy & Range : Good
Ammo Capacity : Good
Rate of Fire : Good
Handling : Good
Weapon Name :  M1N8
Damage Output : Low
Accuracy & Range : Average
Ammo Capacity : Good
Rate of Fire : Good
Handling : Good
Weapon Name : Silenced M1N8
Damage Output : Low
Accuracy & Range : Average
Ammo Capacity : Average
Rate of Fire : Good
Handling : Average
Weapon Name : Carter M33-A
Damage Output : Low
Accuracy & Range : Average
Ammo Capacity : Average
Rate of Fire : Great
Handling : Average
Weapon Name : Binya
Damage Output : Low
Accuracy & Range : Average
Ammo Capacity : Average
Rate of Fire : Good
Handling : Average
OTHER – SPECIALS
Weapon Name : Hartmann 6.62mm
Damage Output : Good
Accuracy & Range : Average
Ammo Capacity : Insane
Rate of Fire : Insane
Handling : Great
Weapon Name : Hartman HLP
Damage Output : Insane
Accuracy & Range : Average
Ammo Capacity : Low
Rate of Fire : None
Handling : Average
Weapon Name : Hartmann AT-40
Damage Output :  Insane
Accuracy & Range : Great
Ammo Capacity : None
Rate of Fire : None
Handling : Great
Weapon Name : Silentium
Damage Output : Insane
Accuracy & Range : Low
Ammo Capacity : Low
Rate of Fire : Low
Handling : Low
Weapon Name : Exterminatore
Damage Output : Insane
Accuracy & Range : None
Ammo Capacity : Low
Rate of Fire : Average
Handling : Low
Weapon Name : Praecisione
Damage Output : Great
Accuracy & Range : Great
Ammo Capacity : Low
Rate of Fire : Great
Handling : Great
Weapon Name : Frag Grenade
Damage Output : Insane
Accuracy & Range : None
Ammo Capacity : None
Rate of Fire : None
Handling : None
Weapon Name : Molotov
Damage Output : Great
Accuracy & Range : None
Ammo Capacity : None
Rate of Fire : None
Handling : None
Weapon Name : C4
Damage Output :  Insane
Accuracy & Range : None
Ammo Capacity : None
Rate of Fire : None
Handling : None
MAFIA 3 COMPLETE GUIDE