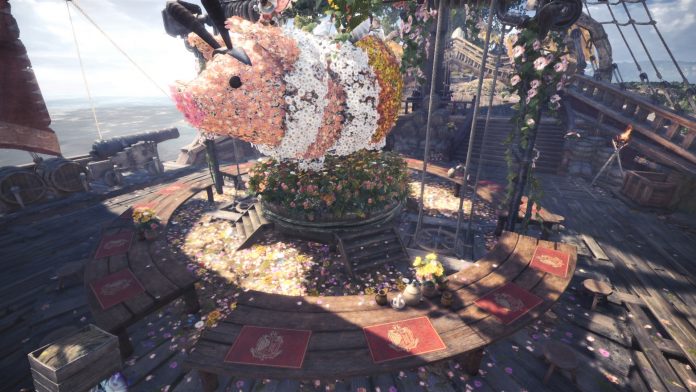 Monster Hunter – Has not been on shelves for all that long however it's already received its first DLC patch and now yet another event is live in the world! This event will allow you cash in missions for rewards such as armour, gear and weapons – check it out!
"Spring is in the air and that can only mean one thing: monsters to hunt. Monster Hunter World has kicked off its Spring Blossom Fest event, which adds seasonal decorations, daily activities, and of course, some new loot to obtain with special Blossom Tickets. It runs until April 19 at 5 PM PT / 8 PM ET.
During the festivities, the Gathering Hub is decorated with flowers and other springtime accoutrements. Event Quests will be running throughout the festival, starting with a quest for the community-designed Wyvern Ignition Great Sword. Starting on April 13, players can start an Event Quest to earn the Mega Man armor. It gives your Palico a boxy look and it plays classic Mega Man tunes according to your selected weapon.
The Spring Blossom Fest will also be running daily Limited Bounties. These should give you a reason to continue logging in, even after you've gotten your hands on the new weapon. You'll receive Blossom Tickets throughout the event–both for logging in and for completing Limited bounties–that can then be cashed in for rewards, including armor. You can also equip the Handler with a new outfit, as pictured below. We've also got a guide on how to get the new greatsword and armor." – GAMESPOT