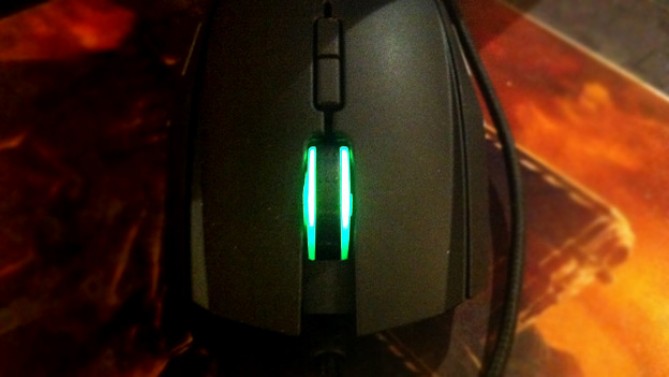 Revealed during E3 2012 the Razer 'Taipan' is one of the more fierce hardware peripherals that Razer have released. They are no strangers to enthusiast level accessories and gaming equipment, however is that degree of quality and skill noticeable in the 'Taipan' and is it worth the challenged price tag which it has on the current market.
DESIGN
Razer know their market and they adjust each product to suit the needs of the gamers. With a strong fan base and with engineers who listens to the voice of the public they are able to cater their designs around what gamers want. The Razer Taipan has a deadly sleek look which is intimidating for all the right reasons. It is covered in a matte black coating and wields a jet engine style grill at the front of the mouse. As the Taipan is a gaming mouse you are also presented with 9 customisable buttons.
The top of the mouse dips ever so slightly against the design of the structure, giving your fingers perfect placement. Both sides of the Razer Taipan are reinforced with a rubber texture which provides grip for both your fingers and thumb. As the Taipan is a ambidextrous mouse, regardless if you are left or right handed it will suit your needs. Along the underside of the mouse are non-slip pads which provide grip against most common mouse mats and will reduce accidental glide.
The Taipan is connected by a durable braided USB cable. The roller ball is firm and features a LED which shines traditional Razer green. Also along the rear of the mouse is the Razer emblem which glows dominantly as you play. Due to built in sensors it will fade out if untouched. Although these attributes are simply cosmetic they help build the Taipan into being a mouse which you would be proud to have.
COMFORT
One of the few problems with gaming mice which are designed to suit both left and right handed gamers is accidental button clicks. Although the Taipan has side buttons on either side of the mouse they are never too intrusive to accidently get pushed during game play.
Also due to its dipped design you can comfortably use the Razer Taipan for both gaming and working for long hours without getting cramp or any kind of un comfort. The mouse is also relatively light compared to other mice which means gaming with the Taipan never seems to be a chore.
FEATURES
Razer have spared no expense when it comes to ramming the Taipan full of effective features which all gamers need. Firstly the mouse is able to sustain up to a stunning 8200 dpi which allows pinpoint speed and accuracy during both gaming as well as difficult photo editing. The Taipan also boasts a 1ms response time with 1000 Hz Ultra polling which makes the mouse impressively responsive.
Although the Razer Taipan does not come with any packaged drivers you can download the free Synapse 2.0 software from Razer which is built on a cloud system. You can download this software and it will work with pretty much all Razer hardware. Using these drivers you can control speed, sensitivity, button controls, dpi as well as the acceleration rate. You can also choose to switch on or off the LED's which are built into the mouse itself. You can also create multiple different profiles which allow you to change your gaming style depending on the game you are playing.
IN PRACTICE (BATTLEFIELD 3)
Due to its superb features the Taipan handled itself well with the current first person shooters. When quickly switching from assault to sniper class the instant DPI change allowed for me to get perfect accuracy on most shots. Also due to the anti slide grip the mouse was never moving un intended. Bravo Razer!
IN PRACTICE (GUILD WARS 2)
Even though the Razer Taipan isn't the most comfortable looking mouse in the world it truly is surprising to find that you soon forget that your holding a mouse at all. The thumb and finger grips help control the mouse and even during long hours of gaming no discomfort was experienced.
IN PRACTICE (LEAGUE OF LEGENDS)
Considering League of Legends is by far one of the most played online competitive games it is essential that you have the best equipment to go hand in hand. Because of the customizable buttons I was able to align each skill within the game to a different button on the mouse. Although not as effective as still using the keyboard it will be pretty handy in other games.
CONCLUSION
With professional gaming becoming ever so more popular as the years go by Razer have some hard competition when it comes to gaming peripherals. However the Razer Taipan rises above other competitors and is by far one of the most impressive gaming mice available on the market.
Although it has a strong price tag of £69.99 it is still worth every penny. If you are new to the gaming scene but want to take it seriously then this is a no brainer. If you are currently using a gaming mouse and considering a upgrade then your quest for a successor is over. The strong element of design combined with Razers strong attention to functionality has made the Taipan our ideal choice for any hardcore gamer for both competitive and social gaming.