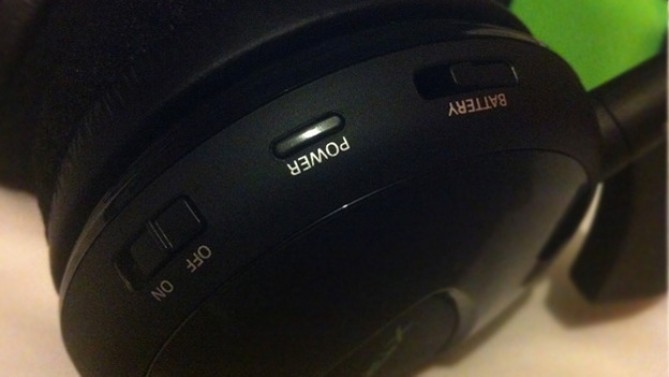 Sharkoon are a well known brand who are dedicated to their hardcore gaming range which consists of PC cases, PC accessories, gaming mice, gaming keyboards and even hardcore gaming headsets which vary in quality for both casual gamers and enthusiasts. The Sharkoon X-Tatic Air Stereo Wireless Gaming Headsets is one of their more recent products and today we are going to see if Sharkoon really can provide to the needs of the hardcore gamers.
Design
The Sharkoon X-Tatic Air Wireless Gaming Headset is a beast, its large design is aided with a lustrous black finish surrounding the entire design. The overall design is robust, durable and the X-Tactic Air does not fear impact.
Each ear piece is spherical and has layers of cushion to both protect and give comfort to your ears while gaming. Too many headsets are fragile and are prone to snapping and breaking, however you can see from looking and touching the X-Tatic Air, that this is the kind of product which will last you.
Comfort
When reviewing a audio headset comfort is a pivotal factor in its final design. Regardless of how good the headset may be, if it isn't comfortable then it is useless. Sharkoon know this and they have spared no expense in providing the customer with a comfortable and relaxing headset which sits smoothly on your head. Regardless of head size the X-Tatic Air can adjust to support it. Along the top of the headset are two large green cushions which provide support and allows you to play on without distraction of itching which some headsets can cause.
Due to the large design you have plenty of breathing space for your ears. This means that during those long gaming sessions your ears will be nice and cool which is an added bonus to the design. Too many times a valuable headset has been hampered with ear muffs which cause your ears to sweat during gaming.
If you are a PC gamer then the X-Tatic Air's wireless features are a godsend as you will have no wires harassing you during game play. However when using the Xbox 360 you are forced to connect a wire from the headset to the controller if you want to take advantage of the microphone. Although it didn't cause any issues you still have to be mindful to avoid pulling it out while gaming.
Sound Quality
With wireless technology the sound quality is always a worry for gamers out there who are using wired alternatives. The X-Tatic Air proves that you can have fantastic quality, with a lengthy battery life and without wires. The Stereo headset provides a high volume for gamers and that's not all. It works well with both deep bass and high treble. Although you cannot adjust bass, tone or treble on the headset itself you can using audio drivers on the PC. This is not suggested though as Sharkoon have setup the headset to the ideal settings for the user.
During Call of Duty Black Ops 2 the headset manages to control the game volume and voice volume of your team mates effectively. Your team mates are crystal clear while you can enjoy the rich sound detail from the game itself. Also you will notice sounds which you never quite noticed before as bullets fly past you and explosions have that extra kick in your ears.
The only downside to the headsets quality is even though the headset has noise suppression technology which cancels out any outside noise to avoid interruption. It does not cancel out noise which is given off the headset to others around you. Your friends may get a little distracted by hearing your game while being in the same room as you. However if you generally play games without others around you then this is not a cause for concern.
Features
For a Wireless Gaming Headset the Sharkoon X-Tactic Air is deceivingly full of great features which are both useful and effective. Unlike many other headsets which feature random add-ons and buttons which do…nothing. The X-Tatic Air keeps it simple. On one ear piece you have the battery hatch, the power button. On the other you have the master volume, voice volume, a microphone mute button as well as the connections for the both the microphone itself and the Xbox 360 controller. Everything which is available on the headset is pretty essential to any gamer of this day and age.
The microphone is completely detachable which helps prevent irritation when playing single player games. Some may say "what's so good about that" but you would be surprised how annoying it is when you have a microphone dangling a few inches from your face constantly when you don't use it.
The X-Tatic Air transmitter is not just a mere transmitter. It also provides the gamer with a fully functional charging desk for both your headset and your controllers. The headset uses 2x AAA batteries and you are given 4 AAA's in the box. You are also given 4 AA batteries which are used for your Xbox 360 controller or any other accessory you may have. You can then charge these rechargeable batteries within the transmitter. The waiting time was approximately 1 hour for a full charge which isn't that bad at all. Once fully charged they provided us roughly 9 hours of battery life. This will save you both time and money when it comes to replacing batteries for the headset. It also has a USB slot so you can charge your Sony Playstation 3 Dual shock controller.
Connectivity
The most beautiful feature of the X-Tatic Air is its surprisingly easy connectivity. Although at first it looks a little daunting as Sharkoon have supplied almost any accessory that you may need. When it comes to connecting the headset itself you don't actually need that much. When you connect to the PC you don't even need any driver as the transmitter is pretty much plug in and play. However caution is needed when using the Xbox 360. Unless your TV features a HDMI Audio out you will need to buy a Xbox360 HDMI Audio Adapter. Although these are inexpensive as you can pick them up for about £5.
Instructions were clear and each scenario was aided by the use of easy diagrams.
Conclusion
When it comes to affordable gaming equipment for both the casual and hardcore gamer it is very rare that you are suggested to pick up a Wireless Gaming Headset. Sharkoon have managed to preserve all the great features of a truly great Gaming Headset while keeping cost low and value high. The X-Tatic Air is such a unique product as there is little on the market within the same league. If you are looking for a professional gaming headset to aid you in your gaming then the X-Tatic Air will provide you with everything you need. The lack of wires is a fantastic benefit which puts this headset ahead of its competition.
Due to its innovative design which grants the gamer with both excellent sound quality, great physical durability as well as a source for the gamer to charge their products and controllers we have awarded the Sharkoon X-Tatic Air with the 'Supreme Value Award'. This headset is both affordable and worth every penny as you can probably pick one up for as little as £99.99.