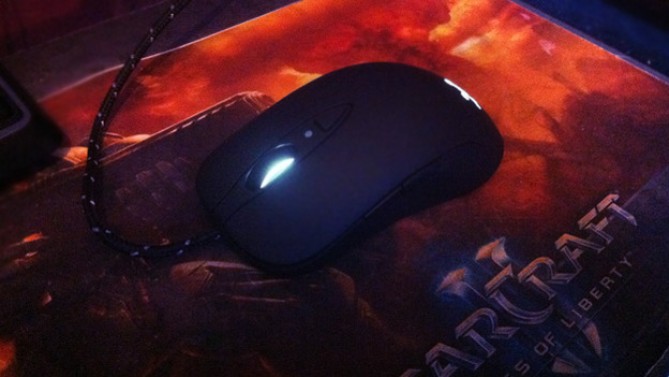 Straight from the Steelseries empire the Sensei [RAW] has made an appearance which is one of their latest additions to the pro gaming hardware category. With Steelseries featuring a healthy history of great pc gaming peripherals our expectations are set high, but is the Sensei [Raw] good enough to turn a few heads in today's competitive market.
Design
It seems that gaming peripherals are getting nicer and nicer as time goes on and the Sensei [Raw] is at the front line of that increase. Sporting a sleek and smooth exterior which can come in either matte black or glossy black the Sensei [Raw] screams style. Layered below the mouse is 3 rubber pads which provide that extra smoothness to mobility while protecting the underneath of the mouse from any debris that maybe on your mouse mat.
To the rear of the mouse we have a vibrant Steelseries logo which shines proudly as you play obviously this feature can be turned off. To add to that the Sensei [Raw] wheel has an almost 'Tron – Cycle' look to it as it also features a circular LED which pulsates as you play. The mouse is stunning visually and isn't in your face as much as other gaming products on the market.
Comfort
With its curved design suited to work with either left or right handed individuals the Sensei [Raw] provides a healthy and luxurious feel regardless of what activity you may doing. Gaming peripherals have always been slated for sacrificing comfort for practically but Steelseries have looked after its customers, as this mouse has found the perfect balance in both areas.
Speaking of practically the mouse features 7 buttons for the user to utilize however they want, this is a great addition but for those of you who are heavy handed will soon find yourself accidently pressing the side buttons and can this can cause an annoyance. To solve this issue you can simply disable certain buttons so they stay out of your way in future use.
Features
The Sensei [Raw] an elegant design which has a wealth of goodies built in to provide for the hardcore and casual gamer. Steelseries have taken a step back and have given the customer exactly what they need. The mouse features a flexible and durable mouse wheel with 2 buttons on each side of the mouse.
Using the Steelseries Driver Engine you can macro and setup the Sensei [Raw] exactly how you like it. This includes changing resolution and CPI of your mouse. The most useful feature of the mouse was the profile switcher which is located directly on top of the mouse. This allows the user to skip between a fast and versatile profile which can give speed and aggression in gaming, to a slow and comfortable setting that makes it easier on the less demanding games where accuracy is key.
The Steelseries Driver also allows you to vary the lighting setup on the Sensei [Raw]. Various options are open to you from lighting styles and pulsating speeds. Lastly it boasts a useful statistics tracker which will record all your button presses to show you which buttons you use the most.
In Practice (Battlefield 3)
Battlefield 3 provided some exciting moments for the Sensei [Raw] as it made excellent use of the profile switcher. While storming certain buildings I would use a fast CPI setting which allowed me to make quick turns so I could cover every corner. Then leaving the structure I was able to return to basic which made long distance fire fights a breeze. This is exactly where having a gaming mouse can improve yourself as a gamer.
In Practice (Guild Wars 2)
While wandering the lands of Kryta looking for more crafting material the Sensei [Raw] had my back as long hours of gaming can get quite uncomfortable when using a difficult mouse. No discomfort issues were presented however as said earlier the annoyance of accidently hitting mouse button 6 and 7 became agitating. It was after this point where the buttons were switched off.
In Practice (League of Legends)

League of Legends requires a lot of high speed move movements and impeccable reaction time. The Sensei [Raw] conquered the battlefield with its movement speed and versatility. Although this is a wired mouse no issues were confronted with the wiring or its length.
Conclusion
The age old question has been answered. "I'm new to gaming and I want to buy myself a gaming mouse. Which one should I get?" The Steelseries Sensei [Raw] is the ideal midrange gaming mouse. It has attacked the needs of the gamer head on and has provided excellent results. This mouse completes the package providing the customer with reliability, comfort and features which are much needed by the avid gamer.
This clever mouse also comes at an impressive price tag of only £30-50, this secures the Sensai [Raw] with our 'Best Value Award'. This is because there are plenty of gaming mice on the market which are more expensive than the Sensei [Raw] but still provide the same level of quality.